™

Vacaville Art Gallery
718 E. Monte Vista Ave., Vacaville CA

June 29 - August 7, 2010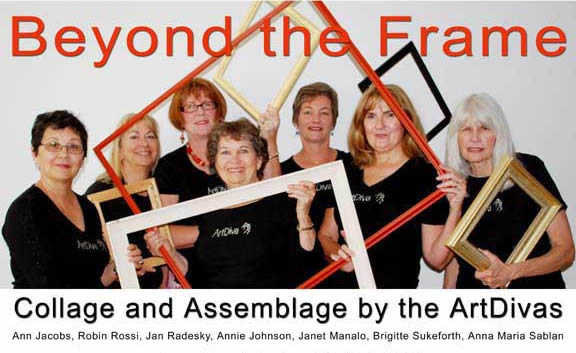 The Vacaville Art Gallery hosts the ArtDivas' sixth major exhibition. It consists of Mixed-Media Collage and Assemblage that challenges traditional concepts as well as artwork that visually projects beyond the boundaries of a conventional frame.

Beyond the Frame represents a broad palette of motifs punctuated with abstract and traditional styles. Encounter 25 structures with bones, canvas, fabric, feathers, found objects, glass, paper, paint, plastic, metal, stone, wood.

An interactive installation allows gallery guests to participate in an experience "beyond the frame". We expect the structure to change over the duration of the exhibit. Follow the evolution on Facebook with the ArtDivas!
Click on images to enlarge. Use cursor over left or right corners of enlarged images to scroll through collection.
The ArtDivas identify with this quote from artist Alexander Calder, "Diversity in form, color, size, weight and motion is what makes a composition." Experience for yourself the diversity and disparity in this unique exhibition!

Contact Us: info@artdivasart.com
All artwork is the property of the ArtDivas and ArtDivasArt.com. Unauthorized use without permission is prohibited.
Website designed and maintained by JEHM Publications.com

©JEHM Publications 2005-2010