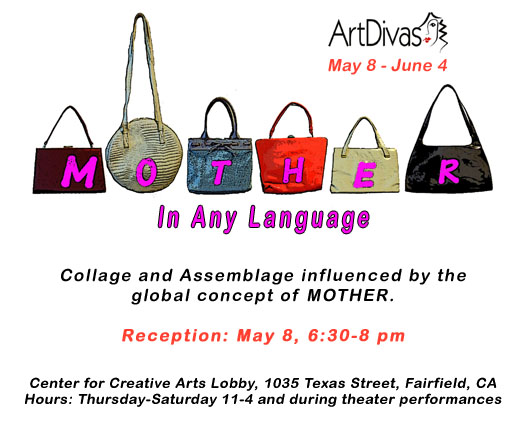 ---

Click on image to enlarge; mouse-over upper left & right corners to scroll through images.

Lineage
by Robin Rossi

Collage

Our genes are  a mixed pooled.  There are no thoroughbred human beings.  Pull together and stop fearing each other and get on with the business of life and using our planet in a responsible manner.

Archetype
by Jan Radesky

Assemblage

I was inspired by a lesson that I did with creative writing.  I am fascinated by the images that seem to stick in our minds from an early age that become archetypes.  I planned to have a lot going on, on the apron, because that's what mother's do...a LOT!


Her Cup Was Full
by Annie Johnson

Assemblage


Grandma Mertie was born in 1892 in the state of Texas. A pioneer in the sense of her hard work and perseverance in difficult times. She was a beautiful seamstress and with joy in her heart sewed many lovely clothes for her family. Mertie was a wonderful example and loved by all who knew her.
The quilt was pieced in the 1930's. The keepsake shadow box contain her personal items and two pictures of Mertie at different ages. This is a tribute to Mertie.


The Mother Earth Quilt
by Anna Maria Sablan

Mixed Media
24" x 24"

Throughout antiquity, the Earth has been seen as the Mother from whom all life springs. She nurtures and sustains us and is the link between Spirit and Nature which brings harmony and balance to our lives. The Mother Earth Quilt is a symbolic visual representation of these qualities.

Spectrum Analysis
by Ann Jacobs

Collage SOLD

Spectrum Analysis is a colorful image containing postage stamps that I have acquired from my travels to the Pacific Rim and the Caribbean.

Sift Together
by Janet Manalo

Assemblage
16" x 32"

"My mother, mother-in-law and grandmother all lovingly spent the vast majority of their time in their kitchens. The joy of cooking was a skill passed from generation to generation and one that I have passed along to my children. There is some truth to the saying: "home is where the hearth is." 

Bahama Mama by Ann Jacobs

Collage SOLD


---

American Patrol by Ann Jacobs

Assemblage NFS

As art is often a shadow of the artist, the assemblage American Patrol contains World War  ll communications from  my father, a soldier, to his mother, my grandmother. War seems to be, unfortunately, an appropriate theme for art in this decade. 

Choices
by Janet Manalo

Collage
24" x 32"

The universal concept of Motherhood versus the bombardment of choices for women in the 21st century.


Mother In Any Language
Interactive Magnetic Panel

Guests are encouraged to use the wooden tiles to spell 'mother' in their language.
All artwork is the property of the ArtDivas and ArtDivasArt.com. Unauthorized use without permission is prohibited.
Website designed and maintained by JEHM Publications.com

©JEHM Publications 2005-2010